Lallybroch filming has been confirmed for May !
The good news – Lallybroch filming will definitely take place in May at Midhope Castle.
The bad news – Lallybroch filming means the castle will be closed . However , I will be visiting Lallybroch next month when filming starts so hopefully I can get some pictures of The Lallybroch set .
Lallybroch tours from Private tours Edinburgh. Visit Lallybroch Castle ( Midhope Castle )  – prices starting from just £32.50 per person .
I don't think Claire and Jamie will be involved in the Lallybroch filming as far as I can work out from the book . I think it is more likely it will be Brianna and Roger . Exciting new plans have been announced to refurbish Lallybroch and open visitor and tasting rooms . Outlander fans will be able to stay in Lallybroch, possibly from next year . A new distillery is also being built. Barley from the Hopetoun House estate will be used for the new whisky .
Midhope Castle, a 16th-century tower house, is used as Lallybroch (also known as Broch Tuarach) in Outlander . Left to Jamie by his parents, Brian and Ellen, Lallybroch is also home to Jamie's sister, Jenny, her husband Ian Murray and their children. With Lallybroch being an important part of the Outlander story, much use is made of Midhope Castle. Phone (+44) 0131-549-9785 for details and bookings .
On this tour you can visit Jamie Fraser's ancestral home – Lallybroch Castle .
There is a real Lallybroch – Midhope House . Lallybroch, or Broch Tuarach, is Jamie's fictional home in the series. In real life it's an ancient 16th-century tower house outside Edinburgh. Midhope Castle is the real Lallybroch . The castle stars in a number of Outlander episodes in series one . You can visit Lallybroch on one of our tours and take a look around the outside .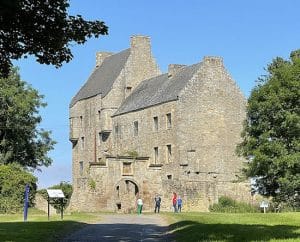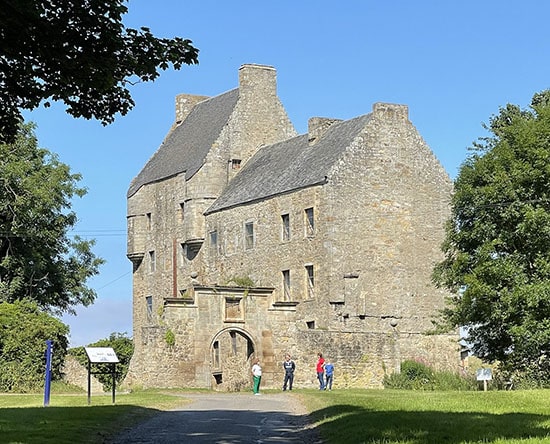 Private Custom Tours from Edinburgh 2022
*************************************************
Design your own tour of Scotland – pick the locations you want to visit and book online.
Check out our best selling four castles tour .
Check out our five star reviews for our unique range of private tours .
Coming soon – preview our tours with our new series of videos of Scotland
"David was an excellent guide and we got to see five awesome castles .  It was a day of sun and exploration"
"Stunning "
Five star Viator review: Scottish Whisky and Castles Private Tour
" Such a great day. The castles are breathtaking and Deanston Distillery tour is interesting and tasty 😉
David knew a ton about the area and as he does Outlander tours, plenty about the filming of the show. "
Price guarantee
Refund guarantee
Tours can be cancelled up to 24 hours before the booking date with a full refund .
Problems booking online ? Please phone / text / Whatsapp us on +447305294773 or contact us online 
Custom tours of Scotland can be arranged – pick the locations you want to visit .  For more information and bookings please phone / Whatsapp  +447305-294773 or contact us online . 
Private tours Edinburgh – Book Online .
Buy your souvenir prints of Scotland from Photogold .
Private tours of    Lallybroch and Outlander , Glencoe and the Highlands , Eilean Donan Castle , St Andrews ,  the Kelpies in Falkirk , Game of Thrones and Doune Castle  .
Phone +44131-549-9785 for more details or contact us online .
Check out our Scotland prints collection
Private tours Edinburgh answer all your most important questions about Outlander