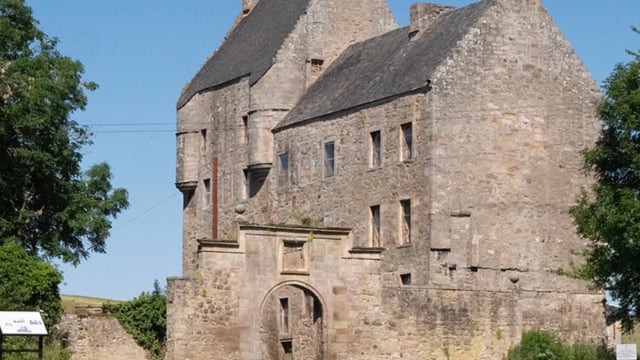 Sam Heughan admits Outlander series six filming is difficult
Sam Heughan admits Outlander series six filming is difficult
Outlander's Jamie Fraser ( Sam Heughan ) has revealed that filming for season six has been disrupted due to the Scottish weather. Outlander news from Private Tours Edinburgh .
The 40-year-old heart throb chatted to Phillip Schofield and Holly Willoughby on This Morning about his new movie SAS: Red Notice but when the hosts asked about the filming for Outlander, Sam said the weather had gotten in the way.
 Sam said he feared for his safety in case Andy McNab , a diagnosed psychopath , turned on him while they were alone with guns during the making of his new film.
Sam stars in new film SAS: Red Notice – based on the novel of the same name – which tells the story of a small army of well trained criminals led by Laszlo Antonov who have hijacked the Eurostar deep beneath the English Channel.
Although Andy who wrote Bravo Two Zero has been labelled a 'good psychopath', Sam admits he was fearful of his safety when there were weapons around.
Holly said: "And are you filming Outlander at the moment?"
Sam replied: "Yes we are Holly. We haven't got you up yet!"
And when Phil asked how far into it they crew are, Sam said: "We started in January and it's going well obviously it's been tough with Covid protocols but also the weather in Scotland has been pretty horrendous. The snow has been bad but it feels like the spring is finally here, there is hope around the corner!"
And Phil laughed as he said he bets having a whisky helps with the cold weather.
Last year, Sam brought out his own whisky , called Sassenach
Sassenach has already been awarded double gold at the 2020 San Francisco World Spirits Competition , despite being a new whisky on the market .
And Sam told Phil and Holly that he would send them a bottle after Phil hinted that he would like to try it.
Private tours Edinburgh
For more information and bookings please phone +447305-294773.
Private tours of the Highlands , Outlander , Game of Thrones , Doune Castle and Eilean Donan Castle .
Private Tours Edinburgh are Good to Go – The 'We're Good To Go' industry standard and supporting mark means we adhere to the respective government and public health guidance, and have carried out a COVID-19 risk assessment to ensure the required processes and protocols are in place. Phone +44131-549-9785 for more details or contact us online .
Check out our monthly newsletter for special offers and all the latest news about Outlander and Game  of Thrones
What does Sassenach mean ?
Our tour gift vouchers can be bought online or phone +447305294773 .
Tour the top film locations in Scotland
Unique private tours
On our Outlander tours you can find out more about Scottish art and the most successful Scottish artist ever Jack Vettriano .
Outlander season 5 was an outstanding success and Outlander season 6 filming is currently under way in Scotland .